---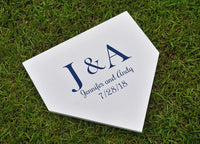 Custom full size home plate. This home plate measures 17 x 17 x .5. The home plate is designed to be a wedding guest book. Each home plate comes with the couples initials, their names, and date. When you check out you can select the color you'd like. The home plate will be painted white. When ordering, in the notes to sellers section, included the information you'd like painted on your home plate.
As with all of our signs, customizing each plate to fit your needs is always welcomed. If you'd like to add or change something on the plate just send us a message and we will send several different designs for you to choose from.
Dimension is roughly 17 x 17 x .5.
Home plate cake stand/keepsake box:
https://www.etsy.com/listing/545590723/home-plate-cake-stand-home-plate
Here is another one of our popular guest books:
https://www.etsy.com/listing/467240761/full-size-home-plate-baseball-guest-book
Our adventure begins:
https://www.etsy.com/listing/530730064/and-our-adventure-begins-wedding-sign
Thanks again for stopping by our store!!!